Eliminar el password Administrador d'un Windows (De XP a 2008 R2)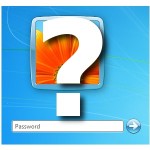 Aquí voldria explicar com podem eliminar el password d'un Windows sigui la versió que sigui, en el títol he posat fins a 2008 R2, per que no tinc clar què passaria amb un Windows 8 o un 2012, jo ho he provat amb un 2008 R2 i ha funcionat bé. Primerament explicaré el cas amb el que jo m'he trobat, resulta que un dels servidors tenia problemes amb un servei i després de donar-hi unes quantes voltes he decidit que el millor que podíem fer era restaurar una còpia de seguretat a veure si resolíem la incidència. La restauració ha anat bé, però a l'hora de posar en marxa la màquina, ha aparegut el clàssic missatge de : "Error en la relación de confianza entre esta estación de trabajo y el dominio principal" Aquesta advertència és normal en aquest casos i es solventa traient la màquina del domini per a després tornar-la a entrar, per a fer això cal iniciar sessió amb l'usuari Administrador local, ja que cap dels usuaris del domini poden fer-ho, però per desgràcia la contrasenya d'administrador local que tenia anotada no funcionava. Després de provar tot el seguit6 de passwords que coneixia i no aconseguir logar de cap manera he hagut de buscar alternatives i una d'elles era aquesta.
Abans de fer res us recomanaré fer còpia de seguretat de la màquina ja que un error en el procés la pot deixar totalment inservible i ningú no se'n responsabilitzarà i jo menys
Primerament necessitarem el Offline Windows Password & Registry Editor, Bootdisk, que podem trobar en aquesta pàgina: http://pogostick.net/~pnh/ntpasswd/ descarreguem aquí l'últim CD Release i un cop descomprimit el fitxer tindrem una ISO que directament podem "planxar" en un CD o DVD.
El proper que farem serà iniciar la màquina en qüestió utilitzant el cd  que acabem de crear i seguirem aquests passos:
1.- Deixem que el CD inicií i ens detecti la partició on es troba el sistema
2.- Seleccionem la opció de "Password reset (SAM)"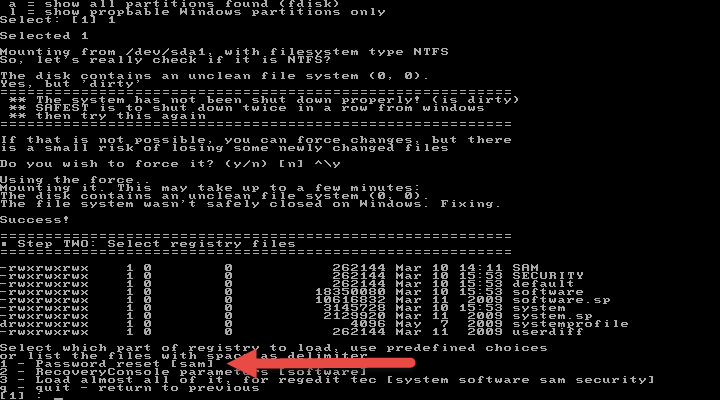 3.- Seleccionem "Edit user data and passwords"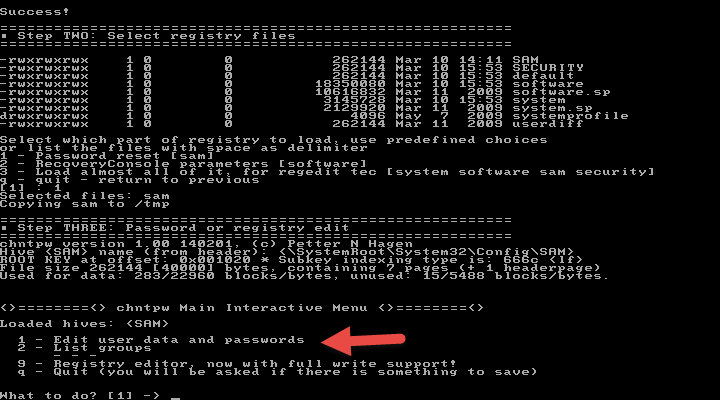 4.- Posem el codi de la conta a resetejar, en aquest cas la "01f4"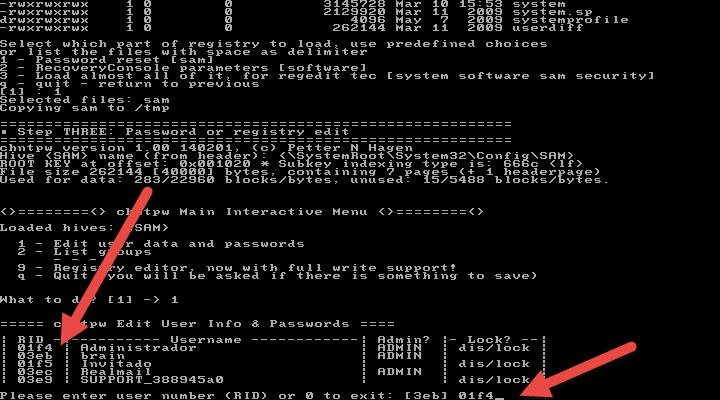 5.- Seleccionem primer la opció 2 de " Unlock and enable user account" i seguidament la 1 "Clear (blank) user password"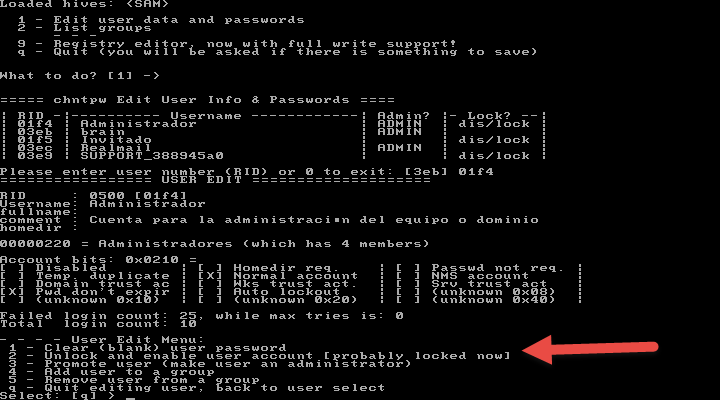 6.- Fet això hem de guardar el canvis, així que hem de sortir dels menús amb la lletra "q" i posar la "y" quan se'ns pregunti.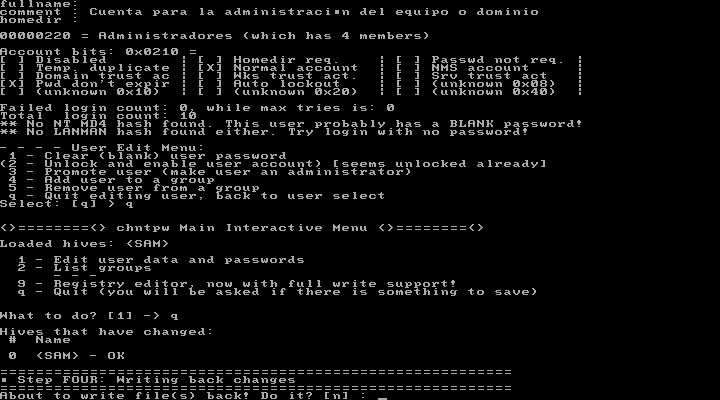 Fet això ja Podem iniciar el Window amb l'usuari Administrador i el password en blanc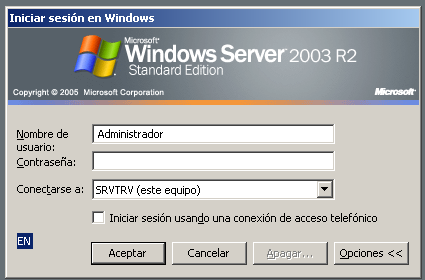 Espero que això li serveixi a algú, però recordeu sempre abans de fer una cosa tant delicada com aquesta disposar de una còpia de seguretat per si alguna cosa no va bé.